News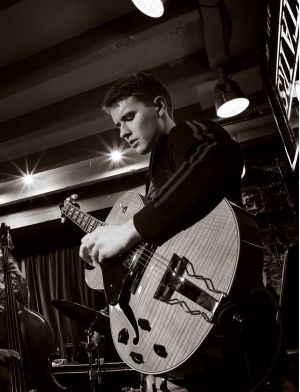 David Rourke, SMIETANA COMPETITION 2019 FIRST PRIZE WINNER IN CONVERSATION with Agnieszka Grochowicz
Presently David Rourke is studying at the famous Juilliard School in New York.
The pandemic has affected him similarly to other musicians - throughout the last year most of the classes took place on Zoom and the gigs he was to play were cancelled. David's answer to that was developing his transcription business and dedicating himself to composition, both of which he immensely enjoys. In the coming 2022 year the artist hopes to release an album with his original music, composed for the most part during the pandemic. Despite the fact the present is not the easiest of times he remains an optimist and joyfully looks forward to the future.
Today we wish to present to you the conversation he had with Agnieszka Grochowicz following his success at the 2019 International Jarek Smietana Jazz Guitar Competition in Krakow where he won the first prize.
What does guitar have that the other instruments don't have? Why did you choose that very instrument?
Every instrument is different and I wouldn't say the guitar is better than any instrument. Having said that, what I love about the guitar is that it is a polyphonic instrument like the piano, but it allows you to shape the note more than a piano. You can bend the note, play the note on a different string, pick the note closer to the bridge/closer to the neck, etc. All these choices contribute to your sound. This is even more true for an instrument like the saxophone. There is so much room for your personality when playing a horn instrument; no two saxophonists sound the same. However, you cannot play chords. The guitar is to me the best of both worlds. All this being said, I play the guitar first and foremost because I love it, and it's the instrument I express myself the best through. I started the guitar at age 10 after getting one for Christmas.
Do you come from a musical family where everyone plays an instrument? Were you exposed to a lot of music as a kid?
I do come from a musical family. My mom plays violin and my dad is a drummer. I started classical piano lessons at age 5. I was exposed to lots of music as a kid, mostly the music my parents like.
You've won the Smietana Competition almost three months ago. How has life been since then, what are you doing now?
Life has been great! The competition was the highlight of my summer. I am back at McGill University in Montreal for my third and final year. I have since had my guitar repaired :)
*David's guitar got broken during a rehearsal just 2 hours before the final of the competition. The fact he is left-handed additionally complicated the situation - such an instrument is much harder to find. However miracles do happen and so we found the right guitar for David.
Have you done lots of competitions before? What are they to you?
This was my first competition. It was something that I felt I should experience. I don't know if competitions are for everybody, but I do think there is room in art for them. Doing well in a competition could help someone with their career.
What was your experience of Krakow as a town? And of the competition?
Krakow was beautiful. I will be back one day. One of my highlights of that week was walking around Krakow with Silvan Joray during our last day there. The competition ran incredibly smoothly. It was organized and managed beautifully. I feel very lucky to have been a part of it.
Do you ever get stressed before your performances? You seemed really composed in Krakow, both at the stage and offstage and even when your guitar got broken just before the final. How on earth do you do this?
I am not sure. I think I am very lucky. I am usually able to keep my cool in stressful situations. I knew at that moment that I would look back and laugh about it, so I tried to focus on that thought instead. I do sometimes get stressed before performances, but never too much. I've played in front of people ever since I could play an instrument and I like the thrill performing can give you.
What are your desert island recordings? Ones that have made a special impact on you. Say, 7 essentials. And why?
Jakie płyty zabrałbyś na bezludną wyspę? Takie, które wywarły szczególny wpływ na Ciebie? Powiedzmy siedem. I czemu?
This is very hard to do and I'm sure it would change if you asked me in a month. In this moment, I would pick these 7:
- Sonny Rollins and the Contemporary Leaders: hard to choose from the Sonny Rollins discography but this one is very special to me. There's so much humour, excitement and some melancholy. He plays some standards on this album that no one else really plays. Some songs are sextet, quintet, quartet and trio. The band is incredible: Shelly Manne, Leroy Vinnegar, Hampton Hawes, Barney Kessel + Victor Feldman on one track.
- Dexter Gordon, Our Man in Paris: one of the first jazz albums I got really into. Dexter Gordon was my favourite for a long time. This album has some of my favourite playing of Dexter on it. Like Sonny, there is a lot of humour. Bud Powell is in great form here too. Kenny Clarke and Pierre Michelot were part of Bud's trio at the time so the album sounds very tight and familiar.
- Beethoven's Third Symphony conducted by Leonard Bernstein (NY Phil): I would love to bring all of Beethoven's symphonies but if I had to choose one it would be the Eroica.
- Rush, Permanent Waves: a great rock band from my home country of Canada. The music of my high school days.
- Bob Dylan, Blood on the Tracks: My favourite album of his. I would spend a long time reading and studying all the lyrics from this album on the desert island (Tangled Up in Blue, Shelter from the Storm, etc.). The music is great too.
- The Beach Boys, Pet Sounds: the music and vocal harmonies are incredible. Some of the modulations still surprise and amuse me (That's Not Me, God Only Knows...).
- Steely Dan, Aja: my favourite album from one of my favourite rock groups. This album also includes people like Victor Feldman, Wayne Shorter, Steve Gadd, etc.
Are you a strictly rational thinker or do you believe in fate or magic and stuff like that? Do you have some good-luck rituals before you perform? Also, did you think the fact your guitar broke just before the final was some kind of positive or negative sign? Because I thought, "Well, now he's got to win it ! "
I'm not sure if I believe in fate or magic and I don't have any good-luck rituals before performing. I know what you mean by my guitar breaking being a sign. It does seem odd that the only time I damage my guitar seriously is right before the finals of a guitar competition. Being left handed certainly didn't help! I think it's just a coincidence that yielded a positive outcome. When it happened, of course I thought it was very negative. Shortly after, I knew that if we found a solution and that I stayed positive, things would be okay. But your actions Agnieszka are really what saved the day!
What is music to you?
Like for many people, music is my life! It's often the first thing on my mind in the morning, and the last thing before going to bed. It's my favourite thing in the world. I've met so many amazing people because of music. I've learnt a lot about myself and life through it, and more specifically through jazz. I see a lot of parallels between jazz and learning jazz, and life.
Any professional dreams that you'd like to tell us about?
I'd like to move to New York City and play music for a living. I'd love to get to play with musicians I admire. I like teaching too and would love to one day teach in a great school. I'd like to travel the world playing music.